Quality and Customer Service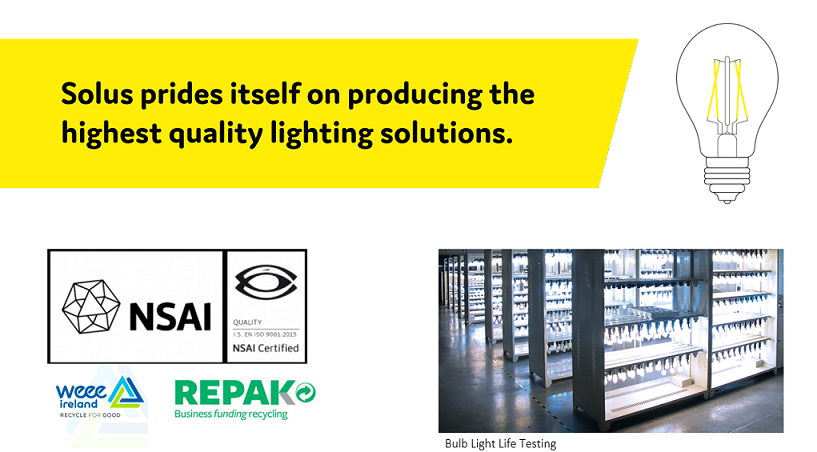 Solus light bulbs are built to cover all the requirements of the International Standard ISO 9001 and the company is certified to the NSAI world class business standards. This standard encompasses a quality audit on every aspect of our business and ensures that SOLUS meets the highest standard in the industry. Quality is at the centre of everything we do. We are proud to send out a positive message to our customers and end users that quality is a top priority of our business.
We join an elite group of over 3,000 organisations who are currently NSAI-certified in a variety of areas such as Quality Management Systems, Environmental Management Systems, Occupational Health and Safety Management Systems and Energy Management. All of the businesses and bodies that achieved this certification were independently audited by NSAI inspectors in order to ensure we comply with global standards.
As Ireland's leading lighting provider, we believe we have a responsibility to drive our industry forward. We never sit still, always trying new ideas and putting no limits on imagining what the future of lighting might be. We provide the highest quality, most innovative lighting solutions out there. We live and breathe customer service here: from Solus Energy Labs, our invention hub, to our on-going research into the changing lighting needs of society.
For our retail customers we are:
Committed to giving rapid response, followed by first class service
Providing extensive sales and merchandising service
Ensuring fully stocked Irish warehouses and POS material
Delivering nationwide on the next business day
We don't just deliver our product and leave. We become your category managers and take pride in the results that we achieve for your business.
Why Solus?
An Irish owned company that has been lighting Irish homes since the 1930's
Specialists in the lighting category
Environmentally aware
Deliver nationwide
Market leaders in Ireland
Offer a full merchandising service
Invest in local business
Innovative
Leading the way in LEDs
Offer the highest rate of sale in the market