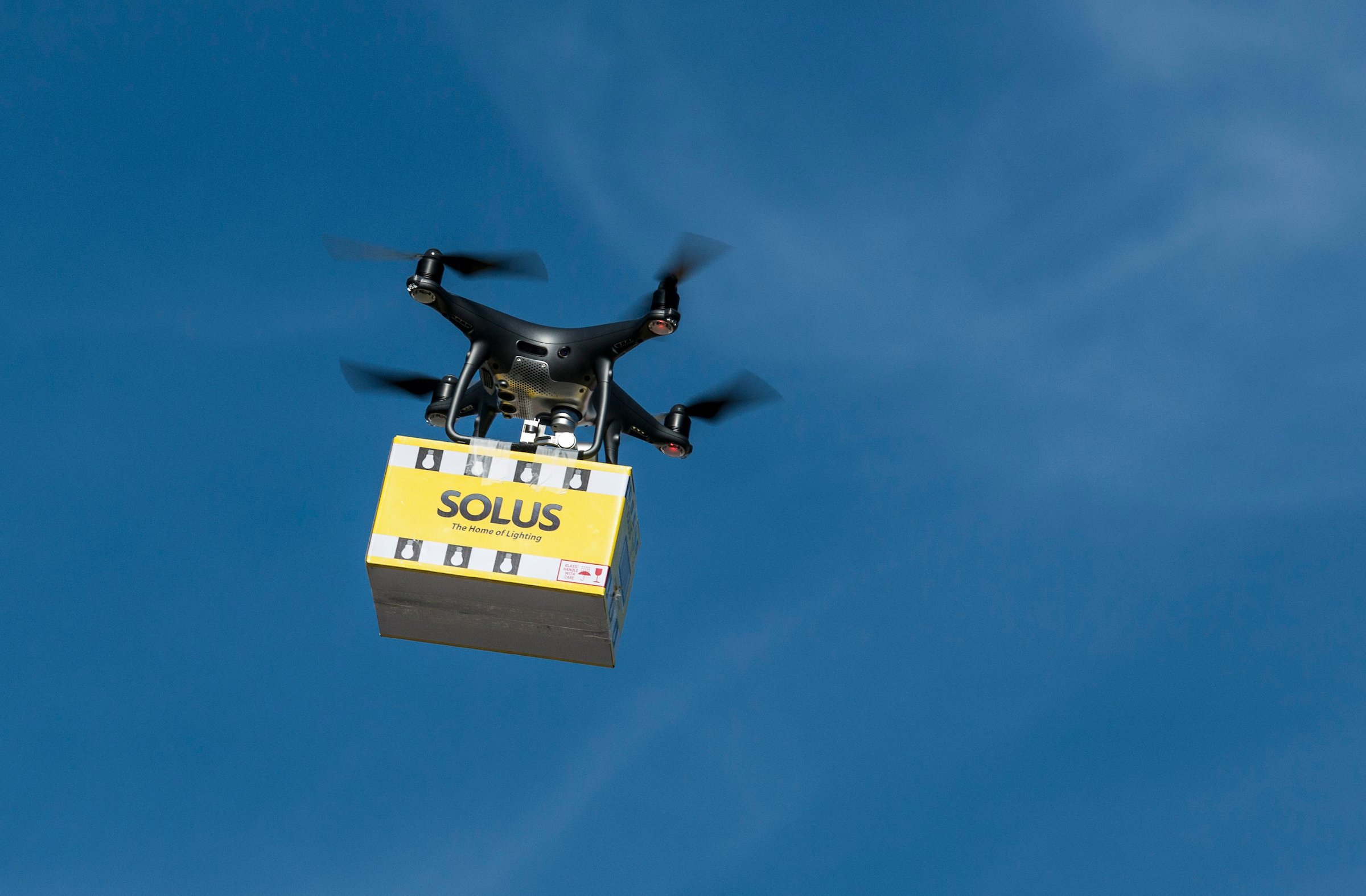 Sky is the limit for Solus as they pilot Ireland's first retail drone delivery

Irish lighting company Solus demonstrated that they are light years ahead as they piloted the first drone delivery of light bulbs to a retail store. Mark Kavanagh, Marketing Director of the Kavanagh Group joined David Reynolds, Sales and Marketing Director of Solus and Former Miss World Rosanna Davison to receive the delivery of Solus light bulbs to SuperValu in Westport. Solus piloted the drone delivery experiment in controlled conditions to be the first lighting company to use drone technology to carry out a retail delivery - lighting the way to autonomous deliveries in the future.
The Kavanagh Group were the proud recipients of the drone delivery to SuperValu in Westport and the pilot took place in near perfect weather conditions. The Kavanagh Group, headquartered in Westport, is now Ireland's largest independent supermarket retail company with sixteen supermarkets across Ireland and Britain including 9 SuperValu Stores in the republic of Ireland, 2 in Northern Ireland and five Budgens stores in the U.K. The group also owns and operates a number of other businesses in the hotel, hospitality and hardware sectors across Ireland and the UK.

The assignment contained 30 candle bulbs from the very latest Solus premium XCross™ Filament LED range. The contents arrived in perfect condition and ahead of schedule proving that even something as delicate as a light bulb can be delivered by drone and perfectly intact. While regulatory obstacles remain, there is no doubt that autonomous drone deliveries are just over the horizon, especially for last-mile connectivity.
"We are always looking for new and innovative ways to improve our service and retail drone deliveries are already being tested across the world so why not here in Ireland!" said David Reynolds, Sales and Marketing Director of Solus. "SuperValu Westport and the Kavanagh Group provide their customers with the best possible quality and service and we share this mission."
Solus is an Irish owned company that has been established for over eighty years, now supports 63 jobs in Ireland and sell one light bulb every 6 seconds. The company have a proud Irish heritage of innovation and forward thinking that have guided the brand for the last 80 years and have been at the forefront of technology and lighting in Irish homes since electricity was first introduced in 1935. Solus carried out this drone delivery experiment to be the first lighting company to use Drone technology to carry out a B2B retail delivery in Ireland
Today, Solus is as strong as ever and continues to place innovation at the heart of their business bringing new innovations and smart technologies into the ever-changing Irish home. Solus invest heavily into Research and Development and new smart technology and energy efficiency is top priority within the new Solus Energy Lab which has been set up to meet and exceed expectations of customers and retailers for enhanced LED products, packaging and the new in-store Customer Lighting Experience. Solus Labs, the company's innovation hub, will continue to work with their partners, to comply with the latest regulations and hope to develop retail light bulb drone deliveries into a commercial reality.