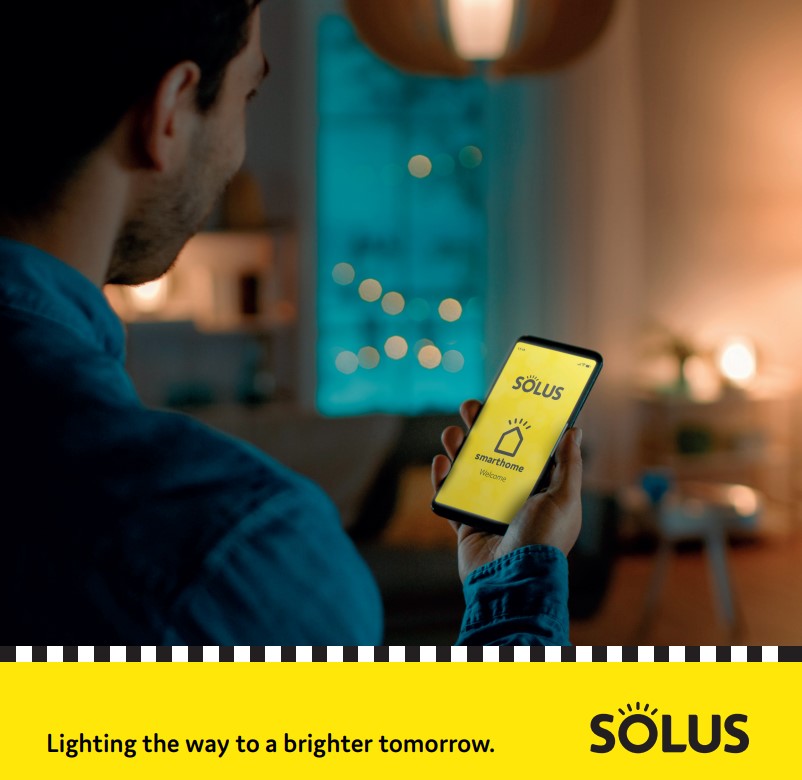 Ireland's leading light – NEW Solus Smart LED range
Solus are Ireland's leading light once again this year as they prepare to roll out the new Solus Smart LED range. The attractive new Solus brand refresh, additional LED lines and innovative Customer Lighting Experience displays are already delivering double digit growth for retailers and the 'Planet first' sustainability initiative makes Solus Ireland's cleanest and greenest lighting company. Now this proud Irish company is lighting the way for connected living and the smart home.
The new Solus Smart LED bulbs put you in complete control of your lighting. You can make any room glow in your favourite colour, control the lights, set timers and schedules with your smartphone and enjoy pre-set modes to support your daily lighting needs. Download the free SolusSmartHome app (iOS or Android), screw or plug in the light, and follow the step-by-step guide in the app to complete the setup and start creating your desired ambiance. The new products conveniently connect to your home's existing Wi-Fi network, as well as come with a dual Wi-Fi and Bluetooth chip for easy pairing and a reliable wireless connection.
Solus is a proud Irish company with over 80 years of building customer trust, recognition and reliability. Solus has been at the forefront of technology and lighting in Irish homes since electricity was first introduced in 1935. The comprehensive range of Solus light bulbs include lighting solutions for every light fitting in the home and Solus have now increased the dept of their range with 150 additional LED lines and the new Smart LEDs
Solus light bulbs are built to cover all the requirements of the International Standard ISO 9001. They are active participants in the Energy Savings Trust and are members of WEEE Ireland and Repak. Solus led the conversation on the mandatory new European Commission regulations that came into effect this year regarding energy labelling requirements for light sources as part of their Planet First Sustainability Programme.
"We never sit still, we are always trying new ideas and putting no limits on imagining what the future of lighting might be. We provide the highest quality, most innovative lighting solutions out there. We know it's vital that we find the most environmentally responsible ways of lighting up our homes and workplaces. We are committed to channelling our innovation into this challenge. We want to be a leading light. For our industry and for society at large." Said Gary Butler, National Key Accounts Manager, Solus
Media Contact: Helen O Dwyer | 086 2332725 | helen.odwyer@solus.ie